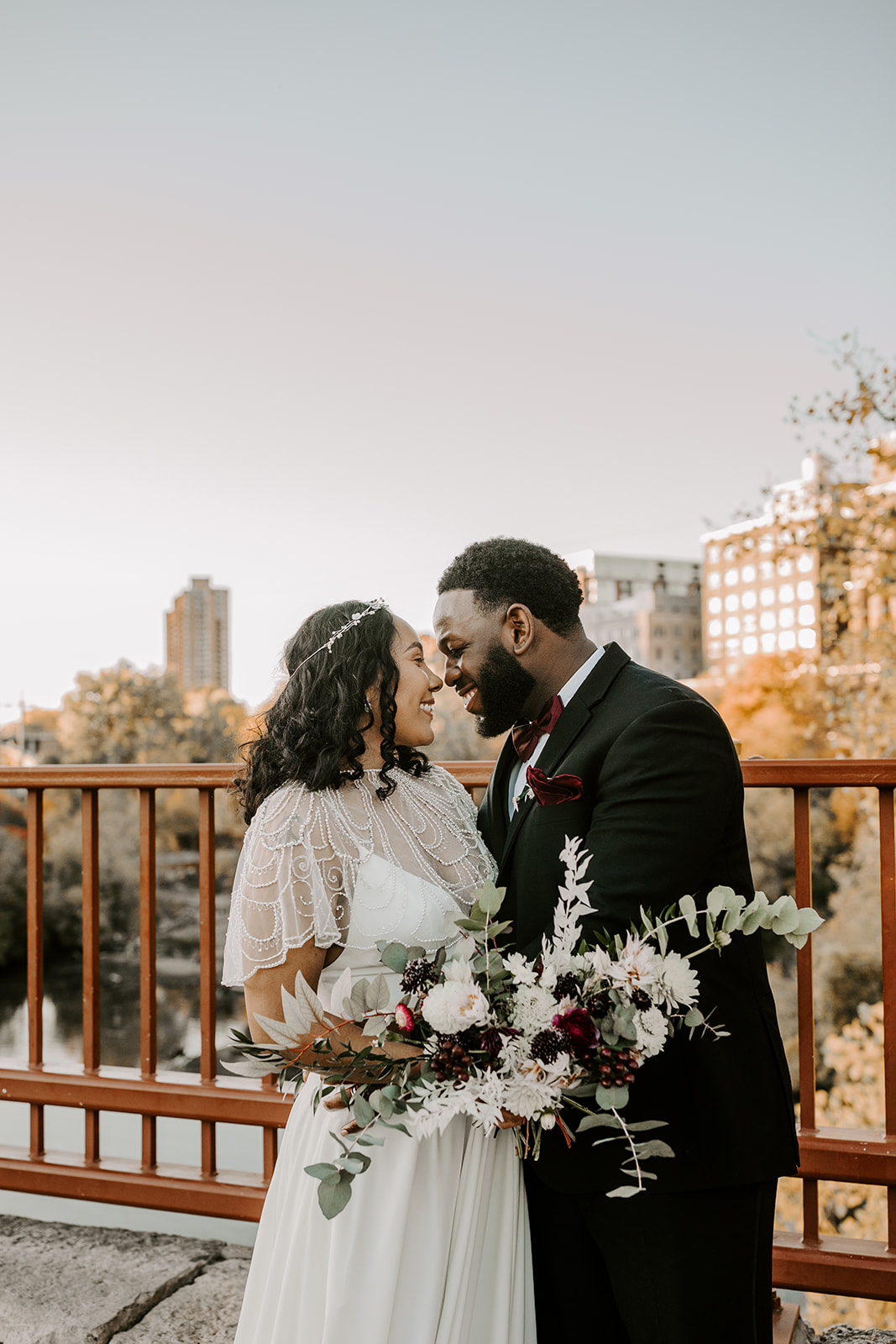 7 Unique Outdoor Elopement Spots in Minneapolis
The land of all the lakes! Minnesota may not be on your top list of  unique places to elope, but with over 10,000 lakes, you're sure to find something beautiful here. Between the lakes is the sprawling, hip city of Minneapolis with a thriving brewery scene and plenty of outdoor activities all times of the year. 
If lakes just aren't your thing, we've listed some of our favorite unique outdoor elopement spots below. Depending on the size of your elopement or micro-wedding, you may need a permit in these locations, and we've included the links to those permits. If you'd like to go permit-less, our suggestion would be to have no more than five people attending.
Here are some of our unique elopement spots in the city:
1. Lyndale Park Rose Garden
The Rose Garden, specifically the Peace Garden, is one of the most intimate, calming locations in Minneapolis. There's plenty of outdoor spacing surrounding the gardens, but if you're looking for a more formal setting, you can find information on permits and availability here. While you can elope here in the Winter, this spot is better suited for Summer or Fall.
2. Stone Arch Bridge
Is there anything more classic than the iconic bridge overlooking the city? Once a former railroad crossing, the bridge is now open to bikers, walkers, or whatever non-vehicular method of transportation you prefer. There are endless spots to elope around the bridge, whether you'd like to be down by the water, right on the bridge itself, or hidden within the trees. If it ends up raining on your elopement day, you can easily snag a spot underneath the bridge with gorgeous views of the city or any of the nearby pavilions. .
3. Lakewood Cemetery
Marrying in a cemetery may sound bizarre at first, but Lakewood is regarded as one of the most beautiful cemeteries in the world. From a private pond to luscious gardens to a chapel filled with mosaics hailing inspiration from Turkey, eloping here feels like an escape out of the midwest. While most couples choose to elope outside of the chapel, you can reserve the chapel for a fee here.
4. Minnehaha Falls
While certainly a popular and well-known location, Minnehaha Falls is fantastic all times of the year. During the warmer months, you'll be surrounded by beautiful flowing water and greenery and in the winter, the falls turn to ice, providing you your very own Frozen dreams. If you're eloping here in the winter, do prepare for some icy temperatures and slippery sidewalks.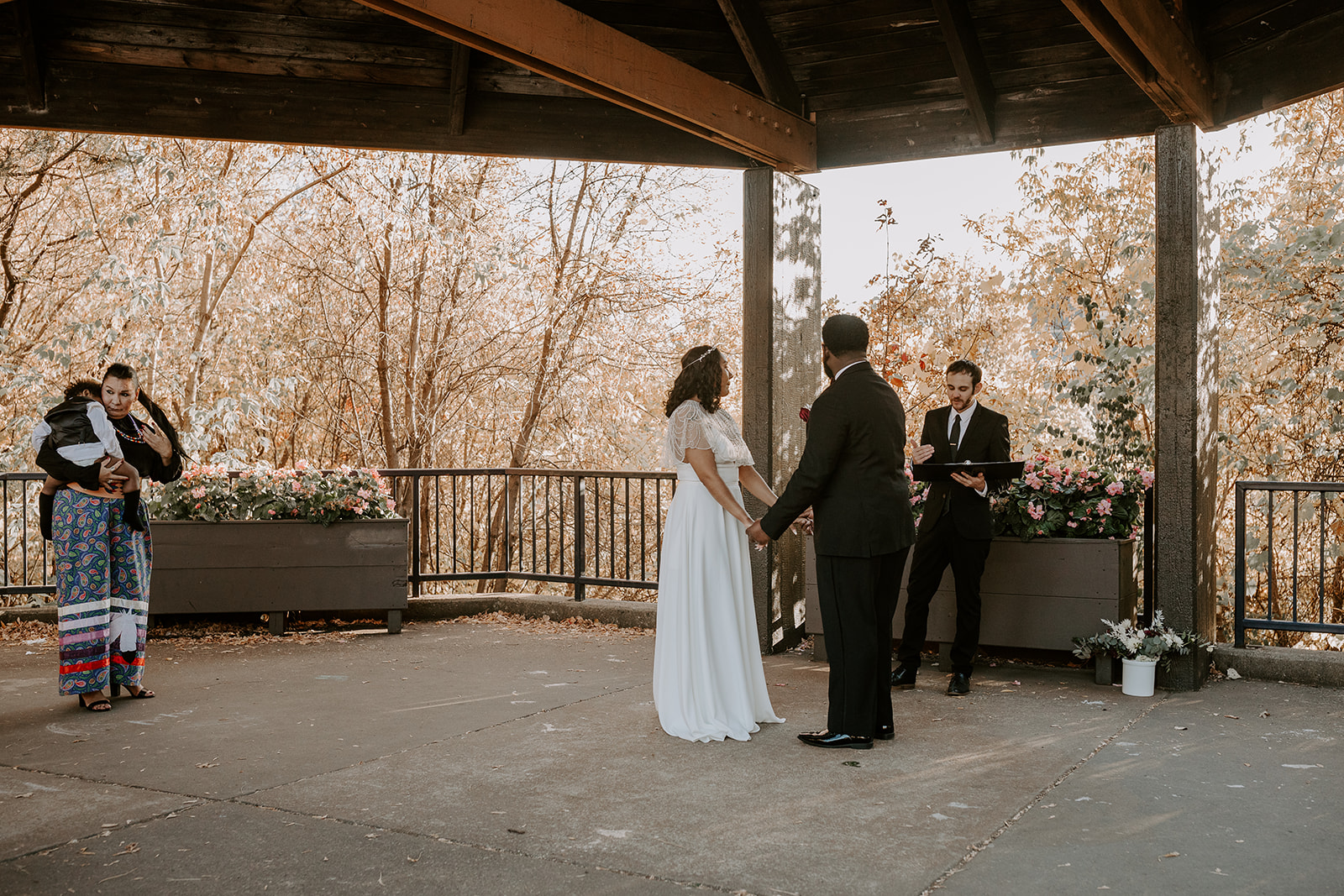 Does this post have you inspired to elope? Pop us a message below to get started!
5. Outside any brewery
With a bursting brewery scene, particularly in the Northeast Minneapolis region, marrying outside a hip, cool brewery is absolutely the way to go if you're the kind of couple that can't get enough craft beers. While you're at it, stop in to grab a beer and take some of your elopement photos there! Dangerous Man still tops our list of favorite spots.
6. Boom Island Park
A little bit up the road from the Stone Arch Bridge is Boom Island Park, a spot with equally wonderful views as the bridge itself. Boom Island boasts less traffic and more leafy greens throughout, so you'll be certain to find spots to hide. One element to note is that this location is particularly popular for full-size weddings on the weekends, so you'll want to be comfortable making any last-minute location changes if a larger wedding is taking place.
7. Outside the Guthrie
While the inside of the Guthrie is modernly exquisite, the outside is chic, blue and artsy. If you're a fan of the arts, you must stop by this location for your elopement. Close to the historic edge of downtown Minneapolis, including the old mill factory and the Stone Arch literally a stone's throw nearby, you'll have the perfect blend of modern art with historic backdrops.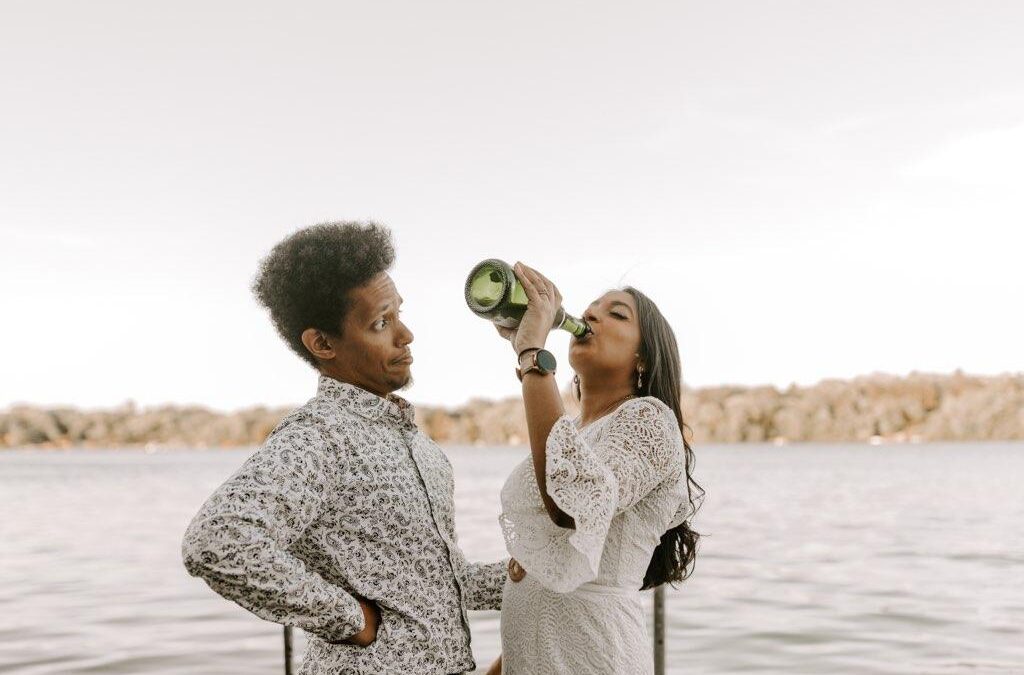 6 Reasons Why You Should Elope in MinnesotaMinnesota always gets a bad rep for being a wintery state, but there are plenty of reasons to love...
Let's Do This!
Fill out the form below and we'll get back to you within 24 hours!